Do you want to see your Not for Profit association or club listed here? Join us as an Associate Member.
Australian Pensioners & Superannuants League
Our organisation's mission is to be the voice of people living on a pension or superannuation. We advocate for a better a deal for all older people living in Queensland.
We are a non-profit, non-party-political, membership association serving pensioners of all ages, superannuants and low-income retirees. We aim to improve the standard of living and well-being of members and non-members alike.
Meets on 4th Wednesday of each month from 9 am (Committee) and 11am (All members) at APSL Hall, 61 Hunter St, Pialba.
Bottlebrush Crafts
A venue for Art & Craft groups to meet weekly to socialise andf share expertise. A small gallery show cases the work of the local Artists and Artisans. There a range of quality products for sale.
30 Ferry Street, Maryborough – 0421 788 734
Burrum District Community Centre
Burrum Heads Neighbourhood Centre
Burrum Heads Neighbourhood Centre provides services to the Burrum Heads Community.There are regular activities Monday to Friday at the Community Hub.
Shop 3 & 4 Ivor Drive, Burrum Heads
Contact our friendly volunteers for more imformation on any activity 4193 4441
Fraser Coast Artslink is a non-profit community organisation which supports all local performing Artists, Visual Artists, Musicians, Dancers, Writers, Artisans and Crafters etc as well as Queensland Arts Council Touring Arts.
Fraser Coast Artslink Hall
187 Bideford Street, Torquay
Fraser Coast Bicycle User Group
The Fraser Coast is a great place to enjoy on two wheels. Come and pedal your way to health and fitness while making some great friends along the way. The Club currently meets every Saturday with seven categories of group rides. No matter what kind of bike you ride or if you wear lycra or not, there is a ride group/level for you. We will help you with rides and routes that will increase your fitness, skill and confidence. Each group has a leader and a sweep ensuring that nobody gets left behind.
| | | |
| --- | --- | --- |
| Secretary | Mark Gaskell | 0435 481 166 |
Fraser Lions Club
Be involved and be connected to your community
You are most welcome to join the Lions Experience
Come along and see if it's for you – don't wait to be asked
Make your presence known and we will make you welcome.

Meets 2nd & 4th Thursdays
6:00pm for 6:30pm
Kondari Resort
49 Elizabeth St Urangan Mob: 0448 358 289
Dan'Dinna House,
459 Boat Harbour Drive, Torquay, Qld 4655. Phone: (07) 4194 6781

Open: Mon & Wed 7:30am-4:00pm Tue & Thurs: 8.00am-4.00pm Fri: 8.00am-12.30pm
407 Lower Mountain Rd, Dundowran, Qld 4655 Ph: 0429 239 344
Hervey Bay Athletics Club at Dundowran run training programs all year round. Little Athletics training is on Wednesday afternoons and Adult training on Thursdays. Club Competition nights are run on Fridays From 4pm to 6pm during August to March.
So book in now for a free Come and Try Out sesion and find out more through Facebook or at www.herveybayathletics.com.au.
On your mark, set and GO.. for family fun and fitness at the Hervey Bay Athletics Club.
Personal Bests are celebrated and everyone gets to have a go. JOIN NOW!
Hervey Bay & District Senior Citizens
28 Totness St Torquay Qld 4655
Ph 07 4128 4837
Hervey Bay Arts Society
Hervey Bay Art Society's "Gallery 5" Art Gallery, at 5 Sandy St Urangan, is open daily and entry is free. Ph: 41249200 . Office hours 9am-12pm
Hervey Bay Dance Club
Sequence style dancing, Waltz, Rumba,Cha Cha etc. First 2 lessons free!
Beginners classes Tuesdays at 7pm at Memorial Hall, Main St Pialba.
Contact web site: herveybaydanceclub.com.au and follow the link
Hervey Bay Gem & Mineral Club
Hervey Bay Gem & Mineral Club provides a service to members interested in all aspects of lapidary. This includes gem cutting, faceting, polishing, cabachons, silversmithing & training courses.
For more information email hbgemclub@gmail.com
13 Zephyr St. Scarness, Hervey Bay, QLD, 4655
Museum Tel: 07 4128 4804
Saturday from 1pm 'til 4.30pm
Sundays from 10.30am 'til 4.30pm
Open all School Holidays and Public Holidays except Christmas Day and Good Friday
Hervey Bay Orchid Society Inc.
Monthly Meeting
General Meetings 7pm on the first Monday of each month except January at the Presbyterian Church cnr Denman Camp Rd & Freshwater Street Torquay.
Interested Growers Group (IGG)
Meetings take place 10am 4th Saturday of the month, except for December and January at the Orchid House, Elizabeth Street, Urangan.
Visitors are always welcome.
Contact Giles Blaber on 0411 721 559


Hervey Bay Parkinsons Support Group
A support group for anyone with Parkinsons Disease, including their family and carer.
For more information contact Maryann Boyd on 0449 578 652 or email herveybayp@gmail.com
Hervey Bay Ramblers Inc
Over 60's walking group meeting each Sunday at 9am at a different park each week
For more info email Diana: stevens.diana@yahoo.com.au
Hervey Bay RSL Pipe Band
The Hervey Bay RSL Sub-Branch is here for the welfare of Veterans and their families. Assistance is provided in relation to their general wellbeing and to apply for any benefits they may be entitled to. Regular services and activities are held for both the Veteran and general communities.
11 Torquay Rd, Pialba Qld 4655
Ph: 07 4197 7477
Hervey Bay Sports Club Inc.
133-149 Tavistock St, Torquay Ph 07 4125 2026
Hervey Bay Sports Club is home to a substantial clubhouse including a sports bar, TAB, gaming room, commercial kitchen and large covered outdoor area. On site playing fields, grandstands and large off-street parking area.
Hervey Bay Square Dance Club
Dan Dinna House 459 Boat Harbour Drive
Learn the steps as you make new friends with Stepping Out. Come and check it out!
Each Saturday 9:30am to 11:30 am
Exercise the body and brain whilst having fun.
$3 per session Includes Tea/Coffee
www.squaredancingherveybay.com.au
Historical Motorcycle Club of Qld – Fraser Coast area
Torbanlea Hall Contact: Sue Church 0414 370 006
Part of Qld wide Historical Motorcycle Club of Qld Inc. Based on the Fraser Coast and catering for enthusiasts of motorcycles 30 years and older. Area/Club is involved in Rallies, Displays, Ride days and fellowship.Area meets at Torbanlea Hall on 1st Sunday monthly ex January.
Legacy Club of Brisbane – Fraser Burnett Group
1 Bryant St, Hervey Bay Qld 4655
Legacy supports veterans' families after the loss or injury of a loved one in military service.
Across the Fraser Burnett region, Legacy supports 534 widow/ers, 12 youth, 5 people with disability (PWD) and relies on the support of 36 Legatees.
Discover the magic of Moving Moments
Getting the over 60's to interact with the younger generation. Contact us 1800 960 433
Maryborough Choral Society Inc.
For more information contact;
Dave McLeod 0439 532 737
Maryborough & Wide Bay Philatelic Society
Postage stamps from around the world
Meetings are held on the 3rd Wednesday of each month at Halcro St Community Centre from 12.30pm to 3pm
Meals on Wheels Fraser Community provides more than just a meal to those more vulnerable with the communities of the Fraser Coast.
39a Islander Road, Pialba, Qld 4655 Ph: 07 4128 1334
Neighbours Aid
Opens 23rd August 2021 99 Main St Pialba Open 8:30am – 4:00 pm Ph: 07 4148 6863
Not for Profit Op Shops providing funding for disadvantaged children and their communities throughout the world. Old fashioned service with quality used goods and great prices. Drive through donations and pick ups
M.A.C.E Wide Bay Chapter began in early 2015. M.A.C.E (Motorcyclists Advocating Child Empowerment) is a Social Motorcycle Club that exists to empower children who have suffered emotional, physical and sexual trauma resulting from an abusive relationship.
Pialba Bowls Club
56 Taylor St, Pialba, Qld 4655 Ph: 4128 1432
The friendliest bowls club in the bay! Everyone is welcome to play or just drop in for a chat.
Free expert bowls coaching available.
Family, private, barefoot bowls and birthday functions are our specialty.
Q.C.W.A. Urangan

The Urangan branch is a very active branch in the Fraser Coast Region and they host regular monthly meetings and functions, tombolas, social handcraft Tuesdays and fund raising to serve the community. Their hall is available for hire.

0414 756 112 Email: janis.street@gmail.com
Torquay Progress Association

The Torquay Progress Association organises the Torquay Beachside Markets and operates the Torquay Tennis Court. The group is for all of the local businesses and residents of Torquay, with meeetings held on the first Monday monthly at 5:30pm at Blazing Saddles, 140 Freshwater St, Torquay. ALL WELCOME.
If you interested in promoting the Torquay area please come along and help create a truly positive vibe for all of the Torquay area and the businesses here.
Uniting Church Hervey Bay
Church Community worshipping God. Supporting people and showing the love of God in all we do.
We hire our hall to community groups.
(07) 4125 5233
Volunteer Marine Rescue
VMR Hervey Bay QLD – Saving lives at sea. We provide marine search and rescue and waterside assistance services to the boating public on a volunteer basis
1 Buccanneer Ave, Urangan, Qld 4655
Ph: 4128 9666
We Care 2
We Care 2 offers low cost food to ALL concession & Seniors card holders in the Hervey Bay area as well as Emergency Relief Assistance.Mon – Fri 9am – 2pm
225 Main St Urraween Qld 4655 Ph: 4124 0913
Wide Bay Womens Health Centre Inc.
The Wide Bay Women's Health Centre, is a point of contact for women in need of support, information, counselling and/or referral in the Wide Bay Area.
8 Truro St Hervey Bay Qld 4655 Ph: 4125 5788
15 Zephyr St, Scarness Qld 4655 M: 0409 001 236
Z-PAC is a community-based theatre run by volunteers, producing a number of quality productions each year. We welcome new people into our theatre community and invite you to become a member and enjoy fun times with great people. You don't have to be an actor to belong to Z-PAC.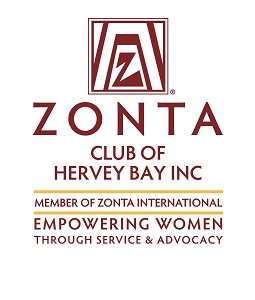 Zonta Club of Hervey Bay
The Hervey Bay Zonta Club supports local and international projects that enhance the study of women in areas of Edcuation, Health and Welfare. Members share friendship and the pursuit of common goals. Dinner meetings are held on the last Wednesday every month. For further information call Susan on 0427 735 952 or Robin on 0427 755 727